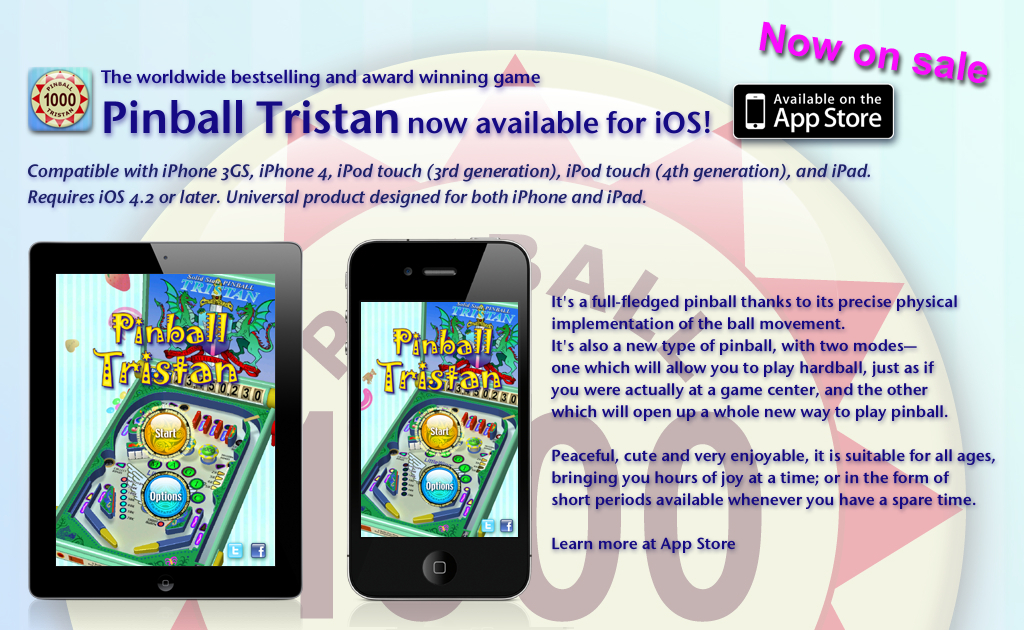 The following is original TRISTAN for Macintosh released in 1991




Overview
LittleWing's first computer pinball game, TRISTAN, was released in North America in 1991 and set a new standard for digital pinball. It was designed and programmed by Fujita, a pinball freak and his partner Reiko created the artwork, and released by a Canadian company AMTEX Corp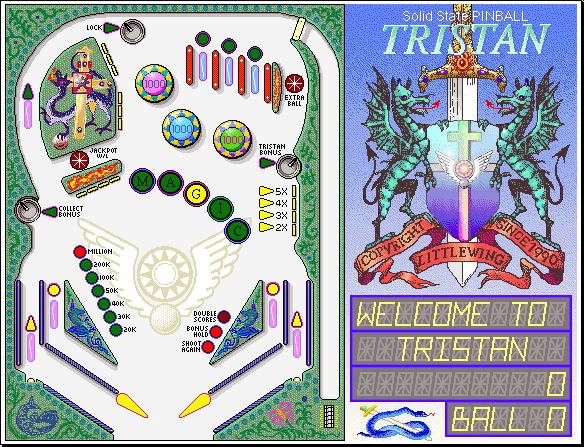 It has rather "primitive" looks today, yet it grabbed pinball fans' heart for its real feel of the arcade pinball and won many prizes such as Best Simulation 1991 of Software Publishers Association(USA) and Game Hall of Fame 1992 of MACWORLD(USA).
TRISTAN sold from AMTEX has two package types. The one shown below is the second one. Originally a real pinball was enclosed as a free gift. However, as it broke the plastic filler in the packages and caused returns, it was replaced by a real flipper later.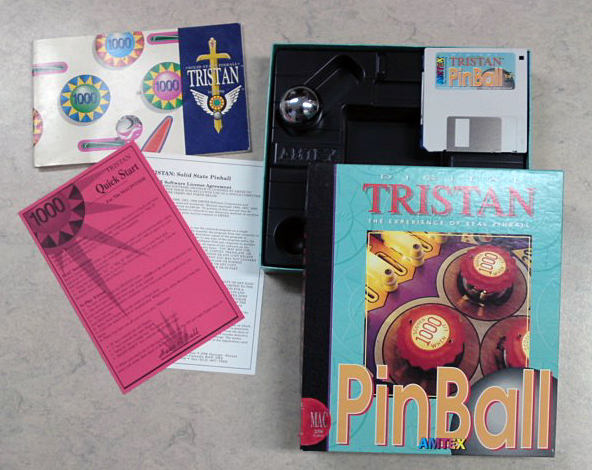 To our great joy and surprise, TRISTAN is still loved by fans around the world. And we receive a message that the second generation fans now enjoy TRISTAN as well. Isn't it amazing? We are the luckiest digital pinball maker.
We are pleased to introduce the amazing project which proves the fact as follows.
Congratulations on building a Tangible Tristan
Requirements
Macintosh: Power Macintosh, Mac OS 7.5 or later. 68K Mac is not supported.
Windows: The schedule of creating Windows version has not been fixed yet. Please register our mailing list to receive product news for the schedule.
Download and Setup
Macintosh:

Download trm_251_ie.sit and double click on the icon.
The file will be expanded to be TRISTAN IE folder.
Double click TRISTAN IE 2.5.1 in the TRISTAN IE folder to start a game.
A dialog box appears. Click "Play Demo" to launch a demo which has time-limit.

Note: To copy the program files, drag TRISTAN IE folder into the Applications (Mac OS 9) folder.
Unlock the program with Key-Code
TRISTAN operates as a demo version until you enter your personal Key-Code. When you purchase your license at our Web Store, you receive your personal Key-Code from LittleWing by Email. Your Key-Code unlocks the demo and it becomes the full version.

Launch a game and click "Enter Key-Code" in the dialog box to enter your Key-Code and Email address which was used for the purchase. Then click "Register" to unlock the game.

Note: Registration depends on the combination of your Key-Code and Email address, so please enter your e-mail address correctly.
After launching, start a new game and shoot a ball with the plunger into the playfield and hit the ball with flippers just like arcade pinball machines. You can also nudge the playfield. Too much nudging causes "Tilt".-
| | |
| --- | --- |
| Insert Coin | COMMAND + I |
| New game | COMMAND + N |
| Pause the game | Mouse |
| Resume the game | COMMAND + R |
| Plunger | Right shift |
| Left flipper | Z |
| Right flipper | / |
| Nudge | Space bar |
Highscore:
TRISTAN stores four high score records with player names. If you hit a high score, program asks you to input your name after the game is over. Input operation uses the score window. You can choose alphabets with the left flipper button and the right flipper button.
The space bar enters the chosen alphabet character by character. Back space key deletes a character. Pressing mouse button exits the registration mode.
Assign Extra Keys:
You can rearrange the key assignment as you like. The original key setting will be also effective after changing key assignment. Dialog box will appear after choosing "Assign Extra Keys" from menu, enter any key to each field.
There is pair of SHIFT, CTRL, ALT for both side of keyboard and these key does not work independentry. For instance, if you assign left SHIFT for left flipper both left and right SHIFT keys will activate left flipper. Please assign your keys carefully.
BNE members have created a dream machine for all Tristan fans. It brought us excitement and inspired our pinball spirits. The machine is superb not only in its appearance but also in its playability as a real arcade pinball machine.
It is really amazing to achieve the completion with parts and features all of which have been created by BNE itself. We are proud to introduce this great work here on this page to the pinball fans around the world. Thank you very much to the great guys at BNE.
Following are articles written by BNE, photos of the production process and a movie of the machine in action. Click each picture for a larger image (about 300 to 500K). Enjoy the exciting project!
Yoshikatsu Fujita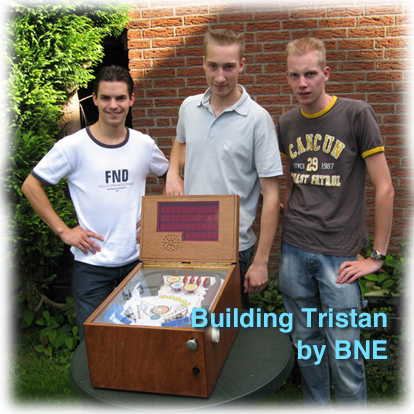 Building Tristan
When we where still little kids we used to play Tristan at our 386-computer. Later on we met each-other on school during our study. With the three of us we decided to build a real version of the game 'Tristan' which originally was made by Littlewing as a computer game.
We where all very enthusiastic building the machine though it did cost a lot of time designing and constructing it. In total we spend over 1500 hours (500 hours a person) designing and constructing the machine in just halve a year. The machine seemed to be a big success. We managed to make a look a like Tristan with just minor differences with the game version.
The machine has the following features/specifications:
- The machine is driven by 6 micro processors which all perform their own tasks
- The machine weights 21 Kg
- Everything works electronically including flippers, ball reload, tristan spin, lock, collect bonus, ball blockers on the side of the machine
- The machine is able to create sounds, like bleeps and simple melody
- W x D x H (inches) = 15 x 21 x 12 (Height measured with the display closed!) - The machine includes the function tilt
- The display can be closed
- Except of a few electromagnetic-coils there are no other parts used from a real pinball machine, everything is handmade!
- All of the software, electronics and mechanics are made by ourselves
- The Flipper coarse includes 46 bulbs
- The machine can simply be connected to a regular power point
There are pictures available of the construction of the machine. If you would like to see the machine working then you can download the demonstration movie. We would like to thank Littlewing for their co-operation!
Greetings from the Netherlands,
BNE (Ben Lemmens, Nico Zink, Eddy Gotink)
Making the cabinet
Electronics
Upperside of the playfield
Downside of the playfield
Shown from the side
Inside of the cabinet
The playfield mounted in the cabinet
Completed
Movie

(6MB. Windows Media Player required)